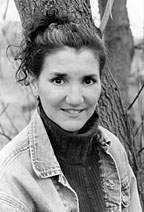 THE SCULPTOR

Holly's sculpture reflects her own dynamic energy, rhythm and

sense of humor.

Her subjects are natural or whimsical, often expressionistic

in style and interpretation through texture and volume.

Bronze, clay, papier-mâché and resin are her favorite mediums.

She received her degree in Art Education in 1979 from the

University of Toronto and Sheridan College,

Holly's work can also be seen at the Glen Williams Gallery,

Above and Beyond and in various private collections.