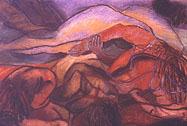 Nancy was interviewed as she was preparing for the 1998 Guelph Studio Tour.


Nancy Farrell works in a number of different mediums. She sculpts, she paints, and she works with pastels. She frequently sculpts from models, and produces both figurative work and landscapes in painting and pastels. Her present project is a series of landscape reflections. Some of these she does in acrylic, some in pastels. "I wanted to paint landscapes that were not typical; there are not a whole lot of people doing reflections. One of the things that interests me about doing this series", Nancy says, "is that I can paint two seasons." An example of this approach is hanging on her wall. A pastel shows a winter scene across the top of the work, white and sober, and below it, the reflection shows a riot of colours. "I like doing this series", she tells me, "and I'm still exploring reflections." Nancy's figurative paintings and pastels are also unique. She often uses multiple figures, which overlap, creating figurescapes very reminiscent of landforms. Often these poses come from the models in the weekly drawing sessions in which she participates.

Some of Nancy's sculptures are finished with an interesting technique called smoke firing. Nancy puts the sculpture in a large metal barrel, covers it with sawdust and then lights it. The sawdust burns down over several hours and leaves a very striking marble effect on the white clay. Nancy uses many different finishing techniques on her sculptures. Some of them she paints, some of them she glazes and some of them she collages on.

"I've always done something art related", Nancy says when I ask her how she began her art career. "I started out doing pottery. I did that when the kids were little and I didn't have much time to spend on my art. I enjoyed that for awhile, but then sculpting started interesting me a lot more. Then I started my Fine Arts Degree at the University of Guelph, where I took a bit of everything over nine years, and that really broadened my vision."

"Busy" does not quite describe Nancy's life. "Not a spare moment" would probably fit better. She works part-time as a speech pathologist; she has just finished a show of paintings and pastels at The Bookshelf; she is preparing for the Guelph Studio Tour this week-end; she spends the week-ends at her studio in Glen Williams where she is also preparing for a show; and she is working towards another exhibit she is having near the end of March called "The 'I' of the Story". The latter will be a joint show with another artist, Ruth Boisson, who does collages. Nancy is working on 13 large sculptures for "The 'I' of the Story", which will be held at Wellington Place, between Fergus and Elora.

Nancy does her two different types of art at two different studios. Her sculpture studio is in the basement of her home, and her painting studio is at The Williams Mill in Glen Williams. The Williams Mill is a group of five buildings that house a myriad of different artists. All the studios are working studios. The gallery, which houses artworks of the various artists, is open to the public Wednesday to Sunday, noon to 5:00PM. Nancy's studio is open Friday to Sunday, noon to 5:00PM. The show Nancy will be participating in at The Williams Mill is called "Behind the Mask", which is running in the gallery from October 21 to November 22 of this year. Everyone in the complex has been invited to submit pieces to this show.

Nancy will be on the Guelph Studio Tour, at Chalmers Church, October 16 to October 18. On the Tour, she will be exhibiting some smaller sculptures; some mounted on small blocks of wood; some paintings and pastels from her reflection series; some pastel figurescapes; and some shrink-wrapped monoprints. The unique, intriguing approach and Nancy takes towards her art is well worth seeing.



Christime Stodart, October 1998