THE ART-IN-GUELPH

ACTUAL GALLERY
3 Paisley Street, Downtown Guelph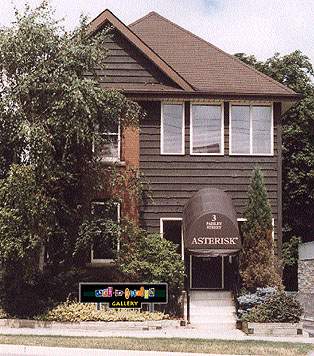 ---
Located at 3 Paisley Street, the gallery is an extension of the existing web site now one year old with 70 artists and over 3500 visits to the homepage.

The Art-in-Guelph Gallery will feature monthly solo and group shows as well as a retail space for artists to display and sell their work. One of the main aims of the gallery is to provide an appropriate space to display and sell the outstanding art and craft work that is displayed on the web site.


Anyone interested in having either a show or work displayed in the store should send 8-10 slides and a proposal to Art-in-Guelph Gallery 3 Paisley Street Guelph, Ontario or call 836-5104.


---

NEW ART SHOW

January 22 to February 20, 1999

FORESTS AND TREES

Carolyn Riddell and Pearl Van Geest

Opening reception January 22, 7 - 10

---

NOW IN THE GALLERY SHOP

Nancy Law, Printmaker/Textile Artist

Lynda Grinnell, Fabric Artist

Ronda Rowley, Textile Artist

Hanna Boos, Sculptor

---

1999 ARTIST SHOWS

March
Nancy Law & Wendy Morgan

April
A peek at the 1999 Studio Tour

May
Eric Wilson and Nan Hogg

June
Tracy McEwen, Nick Hall and Tom Klinger

July
Ronda Rowley and Lynda Grinell

August
Robert Howson

September
Margot Snow

October
Studio Tour - Nancy Law and Vanya Ryan

November
Juried Art Show

December
Christmas Show



---

The gallery hours are

Thursday and Saturday 10am-5pm, Friday 10-9, Sundays on occasion.

---